London Designer: Art Should Be Focal Point of a Home
9/21/2020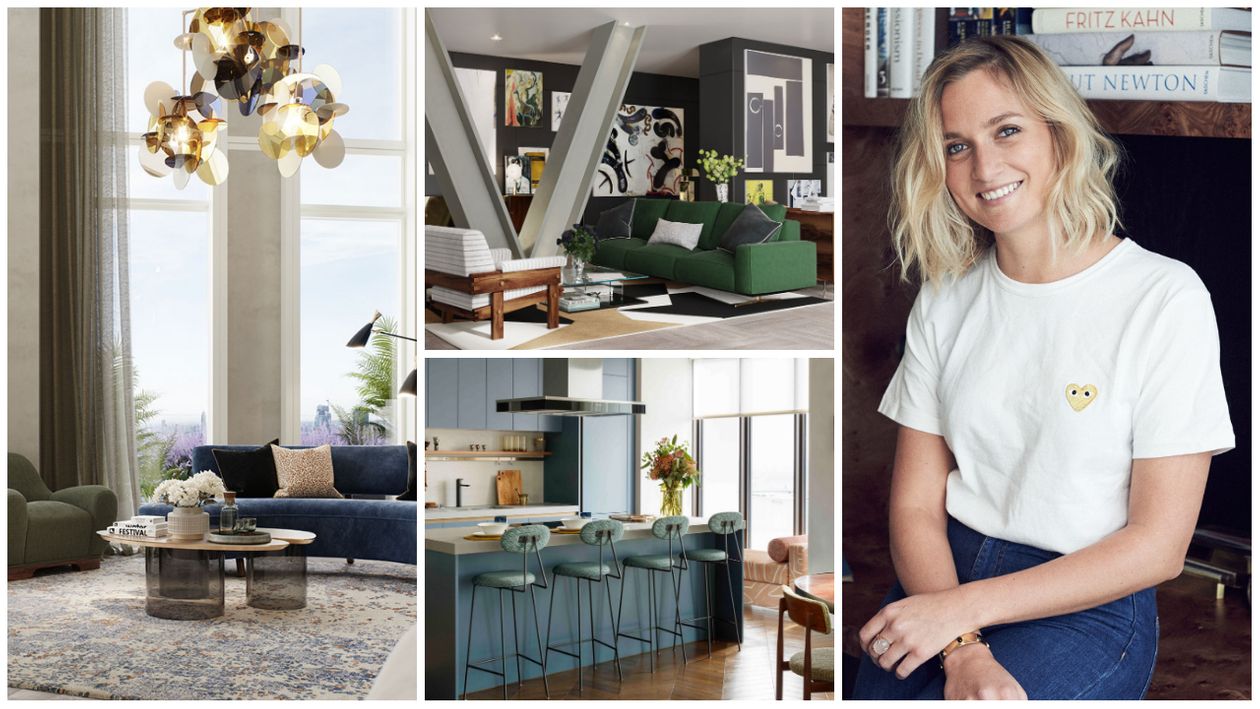 Sophie Ashby founded her own London-based interior design firm in 2014, at just 24 years old.
Ms. Ashby who grew up between Cape Town, South Africa, and the U.K., began her career as an apprentice to Victoria Fairfax, and then went on to head up the interiors team at small creative agency Spring & Mercer in London.
Studio Ashby Ltd. was born as Ms. Ashby got her first client, and within weeks, that swelled to three. What started as a one-woman company run largely out of coffee shops has grown to a team of 12, with a studio in London's Notting Hill neighborhood.
Studio Ashby's roster projects include a Grade II* listed Edwardian and Art & Crafts home on Hyde Park (where author JM Barrie wrote "Peter Pan"), a rambling country house in Somerset for the actress Gabriella Wilde, and a Nigerian-influenced restaurant in London's St. James neighborhood. The firm has also worked in London luxury developments, including the Battersea Power Station, Holland Park Villas, One Crown Place, Floral Court and Greenwich Peninsula.
She often uses artwork as a jumping point in her designs, she said.
We caught up with Ms. Ashby to discuss anchoring a home with art, her dedication to diversity, and more.
Mansion Global: How has Covid affected business so far?
Sophie Ashby: Like everyone else, we had to shut down the studio and work from home for pretty much five months. We have quite a senior team, though, and we've worked together for some time, so it was easier to manage.
At first it was definitely quiet in terms of new inquiries. Then it picked up in June—but it's really all domestic business. We're seeing nothing from developers and nothing from the commercial side. But people are feeling the walls closing in on them.
MG: Do you expect design trends to change significantly as a result of quarantine?
SA: People want dedicated work-from-home space, and they want outdoor space.
And we're getting a lot of new inquiries in the country. People are questioning living in London. But they're all within under two hours' commuting distance of London, which allows them to come into London part-time.
MG: You're known for incorporating art into design. What kind of role do you think it plays in interior design?
SA: It's always been my focus. I studied history of art, and I wanted to be an artist. It feels as though the most moving thing in each room is the artwork. Yes, you'll notice and appreciate the furniture, but the key focal point of an artwork—a painting, a photograph or a sculpture—can have a real impact.
We moved house a lot as kids. My parents had a couple of paintings that every time they got unwrapped, would create a sense of home again. They're nothing special, but there's the memory, sentimentality behind it. Sofas may not last that long, but artwork has the potential to be an heirloom.
We like to start with pieces of art as a focal point; they have presence. And we build the scheme out from there.
Sometimes our clients have a collection and we work around that, and sometimes we suggest they buy art and we help find something for them. It could even be that there is no art in the room at all, but a particular piece—by Matisse, maybe—is the inspiration.
MG: Do you collect art yourself?
SA: I have a growing contemporary African art collection. I'm half South African and used to travel there a lot. I bought during lockdown, too, as people are in real trouble. South Africa is having a really difficult time with Covid.
MG: Are you looking at your home differently having spent more time in it over the last few months?
SA: Definitely. We actually moved here—to East London—right before lockdown, so it's been a real project for me to do before lockdown. I was able to do things that I could never do—like do my home myself without anyone from my firm helping. It's been slow, but I've enjoyed it.
MG: You started a new organization during the last few months, one that's committed to diversifying the industry. Can you tell us more about that?
SA: I was also able to launch a charity that I've been working on with my co-founder Alexandria Dauley, called United in Design, to deal with the lack of diversity in our industry.
We've got 150 people signed up already. The basic premise is that the governing bodies that oversee our industry aren't doing enough.
It all started in response to a post I did on social media on the Black Lives Matter movement. I realized that there was stuff I'm doing wrong. I looked at my studio of 12 people and wanted to figure out what I could do to be more diverse. I wrote a list of seven things that me, as an owner of my own business, could do, things like take an intern, an apprentice, scrutinizing recruitment and HR, doing school outreach. Along the way I met a brilliant black designer named Alex Dauley and we decided to do it together.
The idea is whether you're a designer, lighting maker, magazine editor, whatever, you sign up, pay a nominal fee and you commit to doing three of the seven pledges, and we help facilitate that.
Design is such a privileged, elitist industry in many ways, and we're trying to get around that. We're helping people get the foot in their door.

MG: How do you define luxury as it refers to design?
SA: It's not a word I like to use a lot. The attention to detail and care we go to to make sure they get everything they want is what makes it special.
This is a service-based industry, and at the end of the day, it's about understanding your client and what will make their life better, and then putting the right things in.
I would hate for our interiors to be described as luxury. Most of the properties we work on are incredible, and we come in and make them better and bring them to life.
It's about comfort, practicality, and everything having its place and feeling well thought-out. The ultimate luxury is having space to do the things you want to do the way you want to do them.
MG: What does your dream home look like?
SA: This year more than ever, I'm craving nature and the countryside. I fantasize about a Frank Lloyd Wright-esque house in the woods with a simple interior, clean air and lots of country walks and things like that. And a calm interior. That's what I'm craving right now. I'm a country girl at heart.